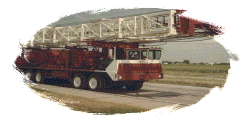 2901 Highway 16 South
Graham, Texas




Give us a call at 940-549-2415. Tommy's Well Service is located at 2901 Highway 16 South in Graham, Texas (USA).
We offer highly experienced on-call roustabout service, and our on-site machine shop is second to none. Call to schedule our service!
Serving North Central and West Texas oilfield needs since 1957.
This page last modified on Thursday, July 12th, 2007